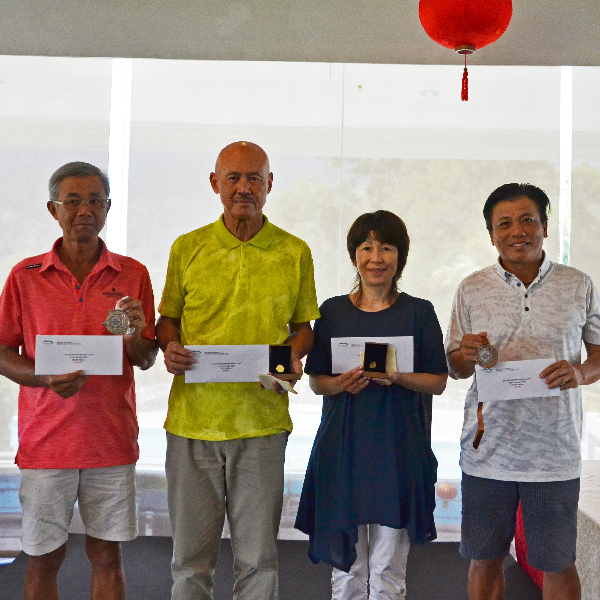 Tomoko Ikawa and Alex Chan shared the limelight by winning the gold medal titles, respectively over the weekend of Annual Gold, Silver, Bronze Medal tournament on Sunday, 19 January which was played under stroke play full handicap format.
Tomoko Ikawa defeated the Club champion Yukari Kimeta by five (5) strokes to win the ladies gold medal category. Ikawa (hcp 14) returned with the score of 74 meanwhile Yukari posted score of 79 strokes.
The Men Gold Medal finished off with a close fight when Alex Chan hold his nerve to putt in the final hole to grab the title. The 12 hcp posted a score of 73 strokes defeating Johari Idrus (9hcp) with 74 strokes. Hor Chee Hon stood in the second runner up position with 75 strokes.
Ng Tong Chin, (hcp 8) posted the best score of the day with 68 strokes, 4 under his handicap to claim the Silver Medal. Eddie Chan (18hcp) who posted the score of 74 strokes took the second place and Sunny Wang, (11hcp) in the third place with 75 strokes.
Jack Chew, a scratch handicapper, showed a good game by posting a score of 73 strokes to win the Bronze Category. Liew Wai Leong (15 Hcp) came home to claim the runner up spot with 75 strokes and Wan Amirul took the second runner up position with 77 strokes.
Click here for full results.