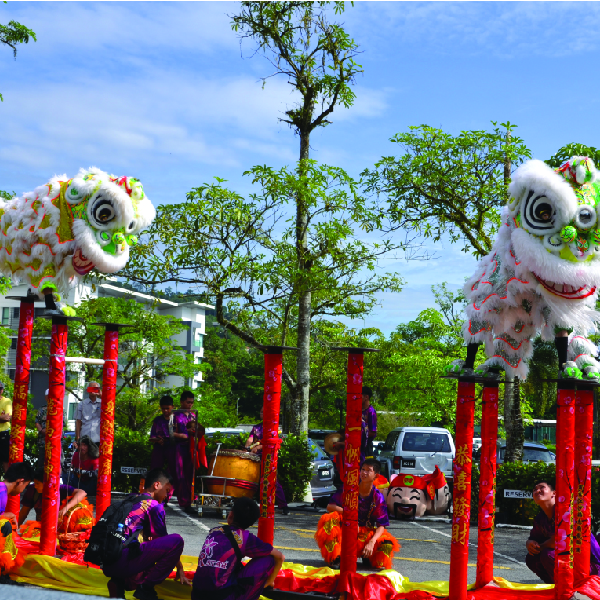 Meru Valley Resort was draped in red and decked with lanterns, as more than 100 members, residents and guests celebrated Chinese Lunar New Year together with the directors of the resort and zodiac rat mascots, on Saturday, 1 February 2020.
The event kicked off with the demonstration of making 'kuih kapit' (love letters), children's art and craft and the lucky draw spin, which ran simultaneously.
Guests learnt the tricks of making popular 'kuih kapit' (made from rice flour, wheat flour and coconut milk) the contemporary way, demonstrated by staff. 'Kuih Kapit' is said to be how lovers used to communicate, and now it is also a must have cookie during Chinese New Year.
Children enjoyed the art and craft, recycling ang pows into cute Prosperity Gods to invite wealth and fortune. Likewise, the lucky spin attracted a crowd as everyone stood a chance to win gifts and cash prizes when they spun the wheel. The community came together to 'Yee Sang', tossing of the prosperity salad and usher in wealth, health and happiness.
Chinese New Year celebrations are never complete without a roaring lion dance accompanied by festival drums. Keeping perfect time, boys and girls of SJKC Chung Hwa pounded their mallets, with shouts and choreographed movements of the drums.
The event reached its climax with the pole jumping lion dance performance by Persatuan Tarian Naga dan Singa Chiao Hooi Beo of Kuala Kangsar for the third year running, to steer away unfortunate spirits through its vibrant, positive energy and symbolic dance. Guests took to their feet and met the finale with thunderous applause.
Thank you to everyone for joining in the celebrations.