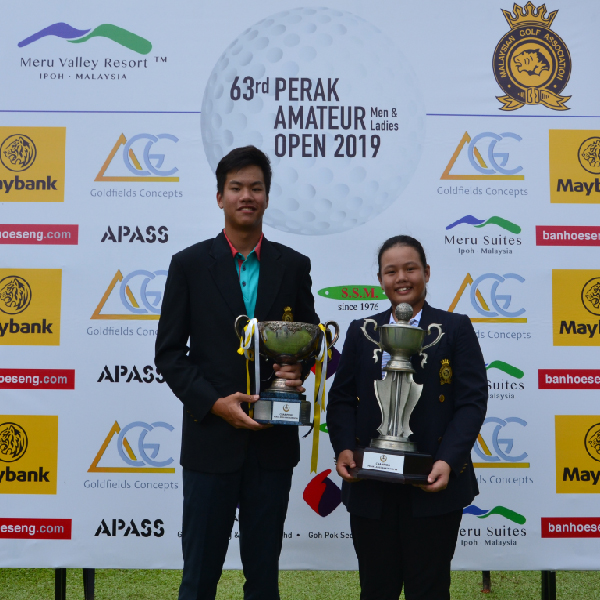 Ng Jing Xuen belied her young age to top the women's division of the Perak Amateur Open, which concluded here at  our pristine golf course on Saturday.
Ng Jing Xuen champion showed great composure and determination, carding rounds of 72, 73 and 77 for a six-over 222 overall.
The 11-year-old from Kuala Lumpur said, "I am so happy as this is my first win when I decided to enroll for tournaments early this year. I believe I did well as compared to the Penang and Pahang Amateur Open which I participated recently."
Jing Xuen also said, "This is my first time in Meru Valley Resort, and I think it is the toughest course I have been in compared to the last two amateurs. The fairways were really difficult for me to handle, but I managed it somehow."
Ng finished four strokes clear of Sarawakian Angel Hii, who was gunning for a sensational hat-trick of titles, having won the Penang and Pahang Amateur Opens in recent weeks.
Marcus Lim 17, said, "I'm really happy playing here today, the course is great with spectacular scenery and I loved the course as it gave me new challenge. I planned to pursue my career in golf as I have planned to further my studies abroad where I can do both sports and medical".
In the men's division, national player Marcus Lim continued his own hot streak as he captured his second amateur open title in three starts.
The 17-year-old led from the word go, putting together consistent rounds of 71, 70 and 72 to finish on three-under 213 – the only player to finish sub-par for the week.
Universiti Utara Malaysia's Sazanur Iman Salenin finished seven strokes adrift in second, ahead of stablemate Umar Khushairi Muhd Kamal.
View complete results here: meruvalley.com.my/pao19