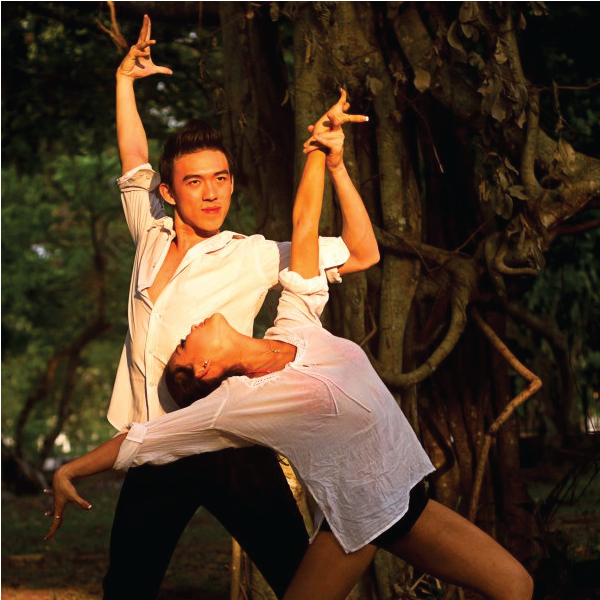 Learn how to dip, spin and shake it in the all new Latin and ballroom lesson!  Join Derek Yeap and his assistant Yuki to learn how to move to the sensuous rhythms of Latin music and glide across the floor with elegant and graceful ballroom dances.
Ipoh born Derek Yeap is a certified American Latin Dance Professional Coach with twenty five years of experience in learning and coaching Latin and ballroom dance. Derek Yeap began dancing  since age nine under the tutelage of Mirko Saccani and Jerry Abrate  (Italy), Gaynor Fairweather and Graham Oswick (England), Carl Buener (German), Joanna Lewis (USA), and Alan Tomsberg (Denmark).  Although a graduate in Diploma of Business Marketing, Derek only had dance in the stars for him.
Derek evolved as a dancer by mastering Latin American dances which includes Samba, Cha Cha Cha, Rumba, Paso Doble and Dive. His love and passion for dance, pushed him to further pursue social dances like the Rock and Roll, Mambo, Salsa, Merengue, Argentina Tango. His desire to share his enthusiasm in dance with others begun as he was chosen as a choreographer for a dance drama in his high school.
Ever since, he started coaching Latin dance for students in local schools as part of their co-curricular activity.  His career was further elevated when he started coaching in Thailand and Singapore. Through travel around the world competing both professionally and with students and eventually partnering with a local studio he began to make a name for himself in the ballroom world.
Derek believes dancing is so much more than just grooving on the floor to your favourite tunes. In fact, it's a hidden language of the soul.
Latin and Ballroom Dance Lesson
Date:  Every Tuesday (4 lessons per month)
Time: 5:00pm – 6:00pm (Children) & 6:00pm – 7:00pm (Adult)
Fee:  RM75 (First lesson is treated as a trial lesson)
____________________________________________________________________________________________________________
For those who are interested in experiencing the joy and beauty of dancing, contact Ms. Jia Huey at 05 529 3353 to enrol or complete the contact form below.
No experience is necessary. No partner is necessary. All levels are welcome. Bring your favourite dancing shoes (nothing special is required, but rubber soles are not preferred).