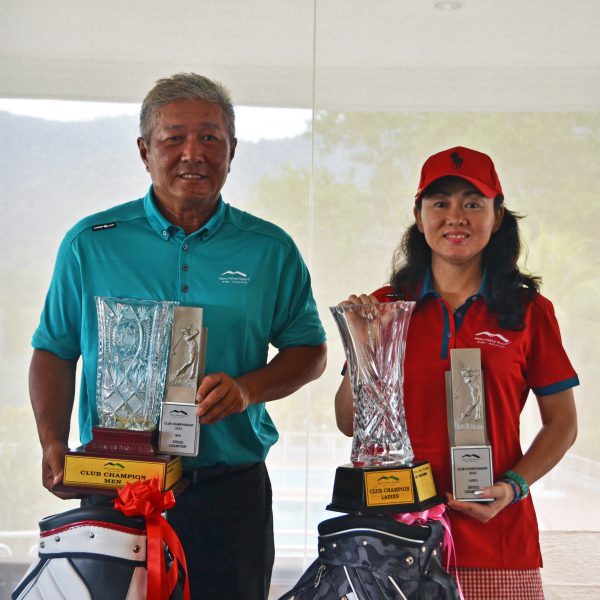 Tan Chee Kean cemented his position as one of the best players by winning the recent 26th Club Champion last Sunday, after carding four birdies. Played over two-days, the course set-up proved to be a demanding test and the winners who prevailed were deserving of their titles.
The title champion defeated his closest challenger Teh Chew Choong by 1-stroke after competing in the two days of championship rounds. Both played tremendously well under each other's competitive pressure challenging for the honour.
Tan Chee Kean posted gross scores of 75 and 76 for total of 151, to defend his title against Teh Chew Choong who posted score of 75 and 77. Former club champion Jack Chew who was also in the hunt till hole 16; claimed the overall second runner-up position. He shoots 76 on the first day and 79 the next day with a total of 155 strokes.
Even for lady's category there was nothing short of any drama. The Champion, Yukari Kimeta survived of objection by her fellow competitor on the first day. However, the objection was overruled, and Yukari posted a pair of 89 for total gross score of 178 defeating last year champion, Ms Choo Yin Kwan who posted a total gross score of 181.She became the first non- Malaysian club champion in the Meru's tournament history.
Meanwhile in the Men's Net Category Ng Keh Jun, handicap 14, claimed his title with a net score of of 68 and 76 for two days of 144 strokes, defeating Lee Sheng by 7-strokes. Lee Sheng played 78 and 73 for total net score of 151.
Junior golfer, Ms. Sharni Nagalingam, handicap 30, won the ladies Net category with score of 78 and 76 over two days. Despite taking on more experience golfers on the field., she maintains a calm game to claim her first major title.
Both the title champions were presented with their challenge trophies by Encik Shahzan Bahari bin Shamsul Bahari, Director of Meru Valley Resort Berhad.