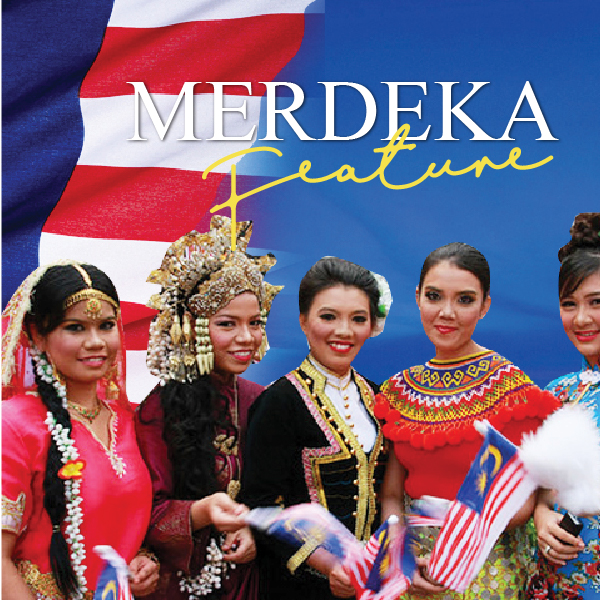 Merdeka this year feels a little different. Perhaps we'll look back one day and recall the opening lines of Charles Dickens' A Tale of Two Cities: "It was the best of times; it was the worst of times." Amid the global pandemic, we are all hoping for greater unity as we celebrate 63rd Independence Day and 57 years as Malaysia.
Even though there would be no national parade in relation to Merdeka Day, our local community has been sharing their own Merdeka stories and messages with us. Scroll down to read their stories:
Mr. Jageer Singh, 72, recalled the country's Independence Day celebration, he said: "I can still remember how happy I was to wave the national flag during the Independence Day celebration, in a procession with people holding white banners, with the word "Merdeka" written on them. It was a whole different experience where people appreciated the real meaning of independence. The generation gap between the six decades, where the young generation may not be able to understand the struggle and sacrifices made by the Independence fighters.
Mrs. Maria Martin, a retiree said; "It is the celebration which Malaysians look forward to every year. During my school days, I was given only five cents as pocket money every day, two cents for kueh and three cents for drink. Now, the children bring RM 5 a day to school. With that we use to save and buy small flags for Merdeka. There were also times when we didn't had money at all, but to create our own flags – that was a joy itself for us."
The theme 'Malaysia Cares' has been reflected throughout the global pandemic. Krishna, 31, a self-made entrepreneur in farming said: "Many of us worked together with the government to take the initiative to protect our community. I am thankful to the government for creating the bank moratorium, which helped many who have lost their jobs to ease their financial debts through this difficult situation. My family and I have personally given away home cooked food packs and delivered groceries and fresh vegetables to the people around Ipoh who need them the most."
Mr. Kishen Chandran, an IT business owner said: "Malaysian showed they cared throughout the pandemic by being patriotic and caring; it is not always about the big gestures. Just give a face mask to a friend, remind each other about physical distancing, pick up rubbish by the roadside – these are all simple actions that show we care."
We know our strengths, we know our weaknesses and we are a proud nation. Bradley Michael, 31, a local music producer said how proud he was to be Malaysian: "The proudest and beautiful thing about being a Malaysian is bonding over simple things like food, catching up with the 'kakis' and blowing off steam about your terrible day at work, and washing it all down with a cup of Teh Tarik."
Proud Malaysian, Sherwin Raj, 26, postgraduate student said; "Our fiery passion is supporting the Malaysian football team, even though we know we won't win. And no, it's not only because we want a public holiday when we win. Also, we can say one sentence in two, three or more languages. Example, Let's ta-pau makan at the mamak la, Macha."
Born to a Chinese father and an Indian mother, Caitlin Chua gladly identifies herself as a Chindian but maintains that she is firstly a Malaysian, she said: "It makes a difference coming from a multicultural family, as I also have a bit of Eurasian in the mix. I was brought up in this loving environment surrounded by various cultures so we learnt to appreciate and respect our elders and the different cultures from a young age. Being a Chindian, you get the best of both worlds, enjoy the cuisine and at the same, have a sense of belonging to both."
Look around you, odds are you're surrounded by friends and family members of different ages, backgrounds and even race. We all look different, dress differently, walk and talk differently, but at the end of the day, we all have one thing in common and that's that we care about each other and our country.
Selamat Hari Merdeka ke-63, everyone.