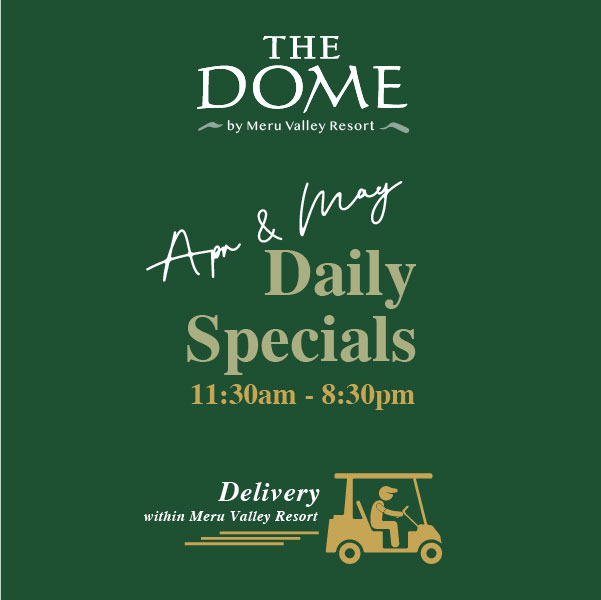 Replenish energy lost after a day of fasting with bountiful meals from The Dome. Choose from the following dishes, specifically put together for you this Ramadan.
Middle-East Beef Cheek Stew                                             
RM 36.00 (M)    RM 40.00 (G)
Slow cooked Australian grain-fed beef cheeks braised to tender perfection, with roasted potatoes and baked garlic bread.
Honey Green Tea
Daging Masak Lemak with Telur Itik and Pucuk Raja   
RM 20.00 (M)    RM 24.00 (G)
Marinated beef, simmered in rich coconut gravy with aromatic spices, served with poached duck egg and fragrant steamed rice.
Honey Green Tea
Nasi Ambeng Family Set (for 4 pax)                                
RM 118.00 (M)    RM 138.00 (G)
Savour the flavours of this traditional sharing platter symbolising the rich cultural union of Malaysian cuisine with its Javanese roots:
Buah Kurma
Ulam-ulaman with Sambal Belacan
Deep Fried Salted Fish
Salted Egg
Meru Fried Chicken
Kambing Salai Masak Lemak
Tempe Goreng
Sambal Tumis Terung
Sambal Prawns
Fish Floss on Rice
Dine safely with us. The Dome strictly adheres to all current SOPs so that you can dine with peace of mind.
Our April Specials are also available for take away while a free in-resort delivery service is available from 11:30am-8:00pm. To place your orders, call 05 529 3358 or WhatsApp: https://wa.me/c/60178786482