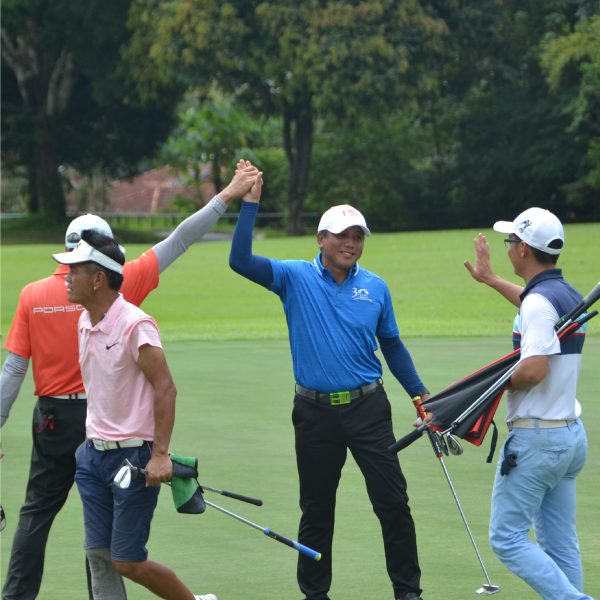 It was sweet revenge for Jack Chew when he lifted the challenge trophy of this year's Club Championship.
Having lost to CC Teh in the Sudden-Death battle of the 2020 Championship, Chew fought tooth and nail to make a comeback this time.
Despite a heavy downpour before the start of the tournament, Chew posted a gross score of 74 to take charge of the leaderboard with a 2 stroke lead over Teh and the rest of their opponents.
The final round saw a tense battle between the two top contenders when Teh managed to cut the gap to 1 stroke after completing the front nine and creating the possibility of a Sudden Death. However, with a series of misfortunes faced by Teh at Hole 11, Chew managed to extend the lead to 5 strokes with 7 holes to play.
Though Teh launched an all-out final attack for the remaining holes, Chew kept his composure and focus before steadily concluding the round with a score of 78 to claim the title with a 3 stroke lead victory. And thus, erasing the bitter memory of losing the previous year's battle.
Teh who played 76 and 79 claimed the runners-up spot. Meanwhile, newly elected liaison committee member, Siew Cheng Fatt claimed the third spot with a score of 84 and 81.
Ladies championship.
As expected, Sharni Nagalingam defended her title with a massive 12-stroke victory over Choo Yin Kwan who finished in second place. Taking the lead right from the start, Sharni put up a determined performance with a gross score of 84 in the first round and taking a 6 stroke lead on the leaderboard.
Remaining focused, Sharni posted a gross score of 87 in the final round to retain her title. Choo claimed the runners-up spot with a score of 90 and 93 gross. Tomoko Ikawa who played 99 and 89 gross claimed third spot overall.