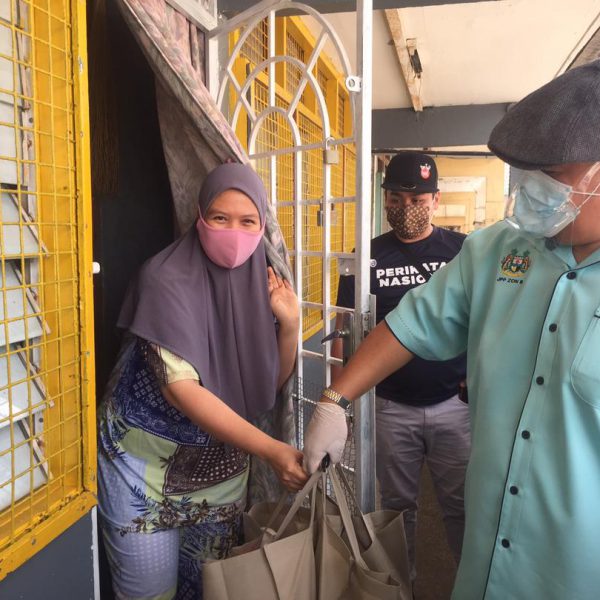 We continue to aid those hit hard by the Covid-19 pandemic under our parent company, Bonanza Venture Holdings' (BVH) Corporate Social Responsibility programme. This time, by delivering essential food supplies and daily necessities to 250 vulnerable families in hopes of making their lives a little easier.
We joined forces with Ipoh City Council (MBI) in the 'MBI Prihatin' programme and distributed care packs to those in Waller Court, Kinta Heights flats and the Buntong Harmony Flats on Thursday, 10 June.
Buntong Harmony Flats:
Chairperson of Buntong Harmony Flats, Mrs Helen said, "Most of our residents who live in Buntong Harmoni are daily wage earners and when the FMCO hit, they lost all their income for almost a month.
When they received the packs from BVH & MBI, they felt very happy and some of them didn't expect to receive sanitary products. But the most important thing is that the quantity of food they received will help give them some relief."
Waller Court:
En. Iskandar, MBI councilor said, "At Waller Court, most of our residents are elderly folk whose children live away from Ipoh, so some of them live by themselves, living on daily wages.
They were very grateful to receive the packs from BVH & MBI especially our elderly residents who live on their own as there has not been many NGOs that have been giving aid to them."
Kinta Heights Flats:
Deputy president of the Kinta Heights Flats, En. Zulkifle said, "Our residents were taken by surprise when the EMCO was imposed in Ipoh, as most of them are self-employed, they have not been earning much income for the past two months and have depended on aid from NGOs and the government.
Our residents were more than grateful when the packs arrived at our flats, they wanted to thank BVH personally as the last time we received aid was two months ago for 50 out of the 300 families that live here. We have a number of elderly and residents who are disabled who are in need of help. We don't need expensive items, just basic consumables to help us survive until the end of the FMCO would be sufficient."
An additional 150 care packs were quickly sourced to help families in new village areas, especially those who are under EMCO until 19 June.
BVH Executive Director of Operations Edwin Tan, said "We are proud to continue this effort by working alongside MBI in supporting local families, during such a difficult time. We are passionate about creating stronger communities and hope this contribution will provide some comfort to the families affected and let them know that they're not alone," he said.
Ipoh Mayor Dato Haji Rumaizi Baharin @ Md Daud, who was present to distribute the care parks, said "Being able to collaborate with the private sector through the 'MBI Prihatin' programme really helped its cause in supporting the needy throughout the city.
Dato Rumaizi added, "In addition to the initial 100 packs today, BVH have also kindly contributed another 150 packs, which will be distributed to those affected in new village areas such as Buntong, Pasir Pinji, Kg. Simee, Kg. RPT Tasek and Kg. Kepayang in the coming days."
"We are extremely grateful to them for doing so. I hope we can continue to work together for the benefit of Ipoh," he said.
Since the start of the pandemic, the BVH group has actively encouraged employees to volunteer at the vaccination programme at Perak Chinese Specialist Hospital (PCSH). In addition, chefs at Meru Valley Resort have delivered lunch boxes to vaccination volunteers, and sister company Kinder Labz has been able to keep childcare services open to children of frontline workers throughout the EMCO and FMCO period.
The initial pack had 18 items, which included food items like rice, noodles, beans, garlic and oil, alongside sanitary products such as shampoo, toothpaste, shower gel and more. It also had a toy for families with children.
The additional 150 packs contained more food items such as canned sardines, mushrooms, sweet corn, pickled lettuce as well as cereal for children.
If you'd like to help support the vulnerable families from Buntong Harmony, Waller Court and Kinta Heights, please reach out to:
Mrs Helen (Buntong Harmony Flats) – 012-585 8605
En. Iskandar (Waller Court) – 012-512 1848
En. Zulkifle (Kinta Heights) – 018-314 4178
Take care, check in on your neighbours and stay safe.