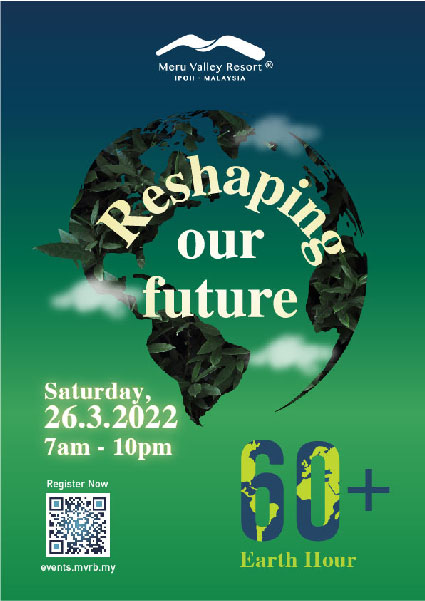 Join us on 26 March 2022 as we celebrate Earth Hour 2022 at Meru Valley Resort.
Various fun and exciting activities await you as we come together in appreciation of Mother Earth. Members, residents and their guests can participate in:
Actual and Virtual 5km Run / Walk
Walk or run a total of 5km amidst the beautiful landscape of Meru Valley Resort from 7am-8.30am on 26 March 2022. Or, do so anywhere you want, just as long as you complete the total distance of 5km in our virtual event.
Registration for both actual and virtual walk events must be done so at earthhour2022.mvrb.my/earth-hour-actual-virtual-walk-run/ by 24 March 2022. Pay the fee of RM25 and collect your t-shirt and goodies bag at the resort between 20 and 26 March 2022, or have it delivered to your address before 26 March 2022.
Our virtual event is open to everyone wherever you are. Just register, complete the distance and then submit your Fitness Tracker app screenshot, photo of your smart watch, or photo of your treadmill gauge with proof of date (26 March 2022), and send it to us at earthhour2022.mvrb.my/virtual-walk-run-submission/.
We will reward you with a Certificate of Completion after the event!
Get an attractive 350ml glass bottle in exchange for ten empty plastic bottles or five old books to be recycled.
9-Hole Casual Golf Competition
Tee off in a friendly competition on this meaningful day, open to all 9-hole walking golf members regardless of age and handicap. Register to participate.
Walk the course to save energy! No buggy on all three nines after 4pm. Burn calories, not electricity!
Enjoy 30% off selected items when you shop at our golf boutique. Plus, save RM1 on your beverage at The Terrace and The Dome when you bring your own reusable cup, bag or food container.
Help save as many lives as we can by donating blood. Open to individuals aged 18 to 60, our blood donation drive is held in collaboration with Hospital Raja Permaisuri Bainun, Ipoh.
Instil love for the earth and environment from an early age by registering your little ones in our online colouring contest. Give them the chance to be creative and to win a prize.
Candlelight Dinner with Acoustic Music
The Dome will be serving dinner by candlelight during the Earth Hour celebration. Be entertained by the smooth sounds of live acoustic music as we strive to eliminate non-critical power consumption together.
Come spot our 60+ light formation powered by a bicycle dynamo. Members and guests are welcome to pedal the bicycle to see what happens.
Come have fun by taking light painting photographs with us which will be printed instantly. All it takes is a few simple steps and it's free of charge!
Check out the environmental exhibition, games and sale of various plants by non-governmental organisation, Pertubuhan Aktivis Sahabat Alam (KUASA) during our Earth Hour celebration.
All non-essential lights at the resort will be turned off from 8.30pm to 9.30pm. Join us in making a difference; switch off your lights.
To register or to find out more about any of the events above, visit our special events page at https://earthhour2022.mvrb.my/