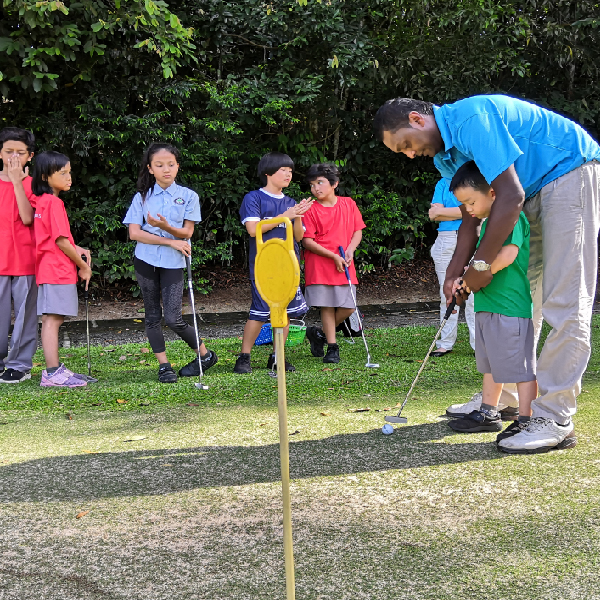 Getting kids interested in golf at a young age can be no easy task with all the other activities available for a child in today's world. Parents who enjoy the game might want to try to get their children to follow in their footsteps. Then why wait? get your child(ren) to join the Junior Golf Academy.
 Designed for juniors aged eight to 16 years old – children regardless of their ability, from raw beginner to advanced, can learn, be coached, play, compete, and most importantly, have fun in a safe, controlled environment.
Get your juniors to join in our programme, where they will learn the basic principles of golf through a series of fast track learning skills for ten consecutive weeks before being tested. Juniors from this level will then be promoted to the advanced levels to understand the game on course through the birdies and eagles programme.
On the other hand, the academy also offers an affordable membership to all juniors, where they will be eligible to play and compete in the adult competition upon approval by the match committee of the resort.
Bring your little ones along for a day of golf! Even if it's for mini-golf practicing with your own club is a joy rather than having to relearn the balance each time.  With a variety of sizes for different ages, your child's golf experience will be as positive as possible.
All training equipment (include gloves, tees, balls / ball marker etc.), rental golf clubs and information are supplied. The academy looks forward to catering for your little golfers' needs to set them on lifelong pathway to enjoyment and friendship.
Our entry level programmes are affordable and you have nothing to lose by simply giving it a go. We look forward to seeing you soon! The programme generally fills up fast, so we encourage you to contact us at 605 – 525 1528 / 05 -529 3300 or send your enquiries to academy@meruvalley.com.my to ensure a spot for your child.