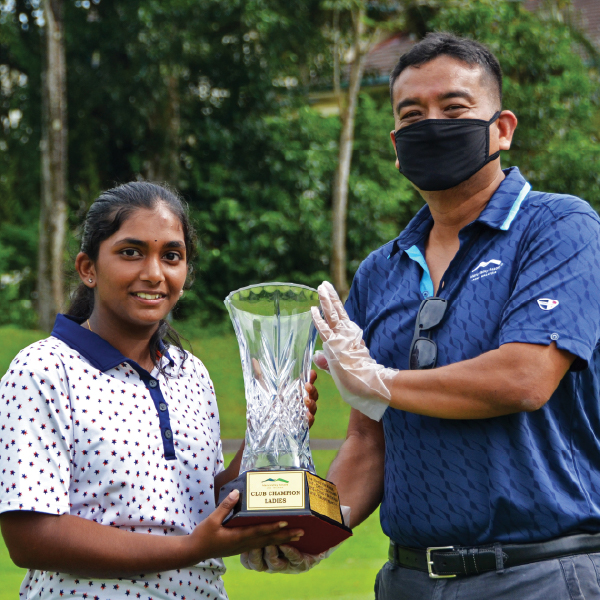 Fifteen-year-old Sharni Nagalingam became one the youngest club champions in Perak when she took the ladies' title at Meru Valley Resort's Club Championship 2020; the youngest in the club's history.
From a family of golfers, Sharni started swinging a club when she was twelve. She enrolled for golfing lessons, with coach Jeyakumaran, also known as Pro Appu, an instructor at the Junior Golf Academy at Meru Valley Resort. Sharni said: "Pro Appu is my father's friend and my coach. He is approachable and friendly and we train twice a week."
To prepare for the club championship Sharni increased her practise sessions, she said: "Two weeks before the club championship, I was at Meru's driving range almost every day. We focused on my putting and chipping skills, and I still need to master putting."
Explaining her progress in the sport, she said: "Before picking up golf, I loved badminton and used to play at public courts with friends, but I did not have the opportunity to participate in any tournaments. Golf has been easy to progress, within a year I took part in monthly medals and club championships held around the golf clubs in Perak. This gave me lots of experience even though there were no big wins."
Sharni would like to see more young people learn to golf too, she said: "I strongly encourage all my peers to play golf because it is a low intensity workout that allows us to be outdoors,. Coming out to play, breathing in the fresh air and enjoying the sunshine while playing at the course is a great experience. I feel fresh after each game and I can concentrate on my studies."
Away from the greens, Sharni loves doing word searches, listening to music and playing with her dogs. She plans to to be an entrepreneur and she will continue to play golf.
If you are looking for a safe outdoor activity for your juniors, sign up to the Junior Golf Academy programme today. Contact the academy at 05 – 525 1528 / 05 -529 3300 or academy@meruvalley.com.my to ensure a spot for your future champ.