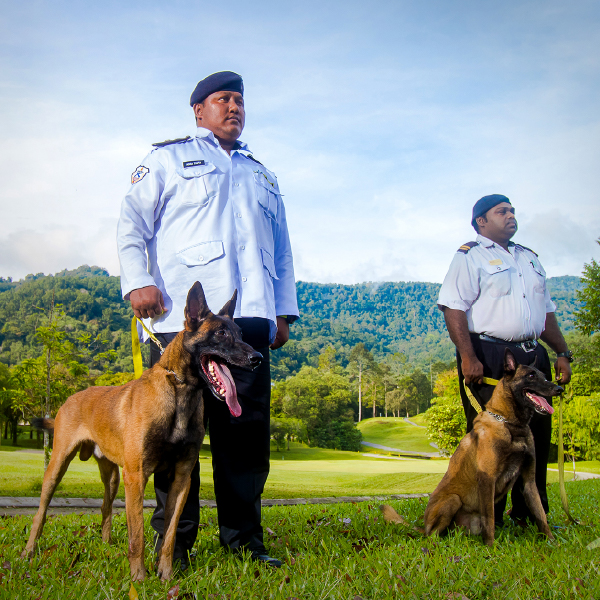 Meet our new K-9 officers, Ari and Boy, who are confidently patrolling the resort with their dedicated handlers to keep residents safe.
Committed to the safety of residents, Resort Security and Property Manager Kanagarajah Subramaniam, said: "Our new K-9 support unit has been in special training for almost three months and is ready to assist us in raising security around the resort. The extra support will improve risk mitigation in challenging areas, where multiple people are required."
The pack is being trained under a professional K-9 unit trainer, Henry Yew, who has worked with the Malaysian Prison and Royal Malaysian Customs Department K-9 units. Following his passion for dogs, Henry became a professional trainer in 2002.
Introducing the specialist support unit, Henry said: "The K-9 unit has two members from the Belgian Milionis family, which are the commonly used breed, to provide additional security. The dogs heightened sense of smell and hearing give them the special ability to detect trespassers and unusual activity around the resort.
Explaining the training method, Henry said: "These guard dogs are trained in controlled aggression and detection methods. They are an excellent security strategy in the detection and deterrence of threats from intruders and also creates a psychological deterrent to potential intruders or trespassers."
"The security patrol dogs are trained together with their handlers, as each handler has a unique and special relationship with them to ensure that we can provide the highest level of protection while maintaining the quality of our service. After three months of training, these boys are ready to be deployed operationally."
Explaining how the dogs are being taken care of, Kanagarajah said: "Caring for the dogs is our top priority. They are part of our team; they have the best food, clean kennels, and daily walks. Their kennels are spacious and allows them to have time out and a well-deserved rest.
With the K9 support unit onboard, we are even more committed to keeping our residents secure.