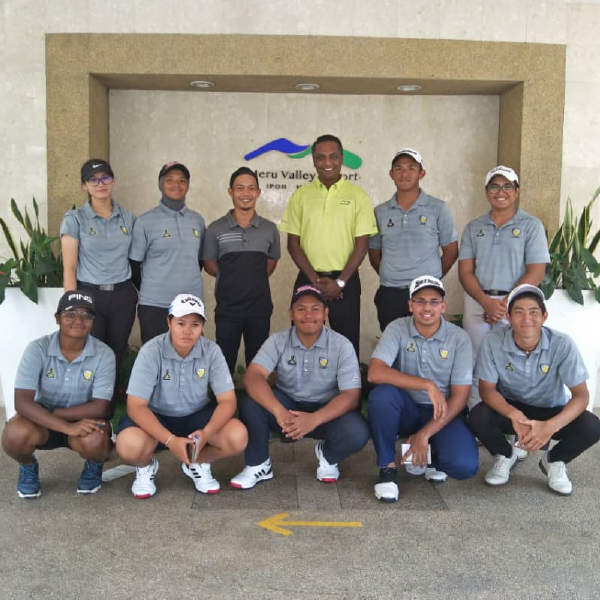 Perak's top golfers have started training at Meru Valley Resort in preparation for the SUKMA (Sukan Malaysia) games in Johor, March 2021. The state squad have started training around Perak's top golf courses.
The Perak golf team consist of Ilysia Yasmin, Mohamad Farhat, Lekisha Sasitharan, Muhammad Hariz Hezri, Hadi Irfan, Lucas Yee, Charlayne Chong Shin Ling, Eldrick Chong Ming Loong, Maisarah Hezri and Allycia Gan.
Only four boys and three girls will be selected for the state squad to play next year SUKMA Games. The Perak selection committee has the daunting task of selecting the best among a talented crop of young players.
Lekisha, 16 said: "I have been playing golf since I was 3 years old. I used to follow my dad to the driving range and watch him play and now it has become my lifeline. I'm thankful for my parents who still support me to pursue my wish to be a professional golfer, and I believe SUKMA will be a stepping stone for me."
Taiping born Ilysia Yasmin said, "I'm really proud to be part of the Perak team and to be playing for SUKMA, it's a whole new experience and I am definitely eyeing for the title."
The tracking and analysis of the individual performances from now onwards will help finally select the state team based on merit and consistency of performance.
Farhat, 17 said: "This will be my second time to be in the team after SUKMA 2018. If I am selected once again to represent the state, I will perform my best and make Perak proud."
Director of Perak State Sports Council, Mr. Johari Sham Bin Ahmad Shohor conveyed his heartfelt gratitude to Meru Valley Resort for hosting the training session for these athletes in support of the state sports development.
Upon selection of the final team, players will be undergoing a final training camp before the team take on the SUKMA's game for Perak's glory.