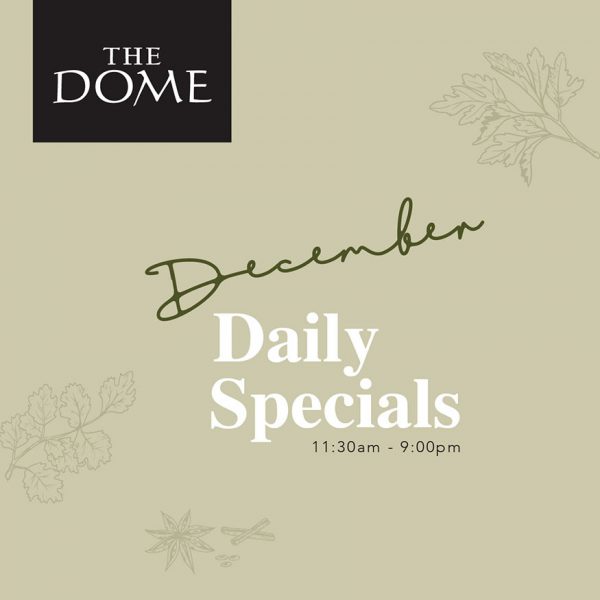 Celebrate the year end and the new year ahead with a special meal at The Dome. Our chef has put together a menu of mouth-watering offerings including a roast to tantalise your tastebuds in the months of December and January.
Our Roasted Garlic Spaghetti with chicken and mushroom tossed in an aromatic roasted garlic cream sauce, topped with turkey bacon bites and parmesan cheese, is the ultimate comfort food. Served with a refreshing Ice Lemon Tea.
RM 20.00 (M) RM 24.00 (G)
Try our Souvlaki Lamb Kebab, a Greek meets Middle Eastern version of grilled juicy lamb kebab and vegetables drizzled with appetising Tzatziki sauce and wrapped in a tortilla. Served with a refreshing Ice Lemon Tea.
RM 28.00 (M) RM 32.00 (G)
Round up the family and usher in the festivities with a hearty roast meal. Perfect for a group of 3 to 4 people, our Australian Roast Beef is cooked to tender perfection, preserving all the juices and flavours of the meat. Served with flavourful side dishes of Truffle Fries, Sauteed Mushrooms and Cauliflower Mornay.
RM 120.00 (M) RM 145.00 (G)
*Prices are exclusive of 6% service tax
Specials' Menu is available from 01 Dec – 31 Jan, Monday – Sunday, 11am to 9pm, with last orders at 8.30pm.
Members and guests can reserve a table by calling 012 2616771.