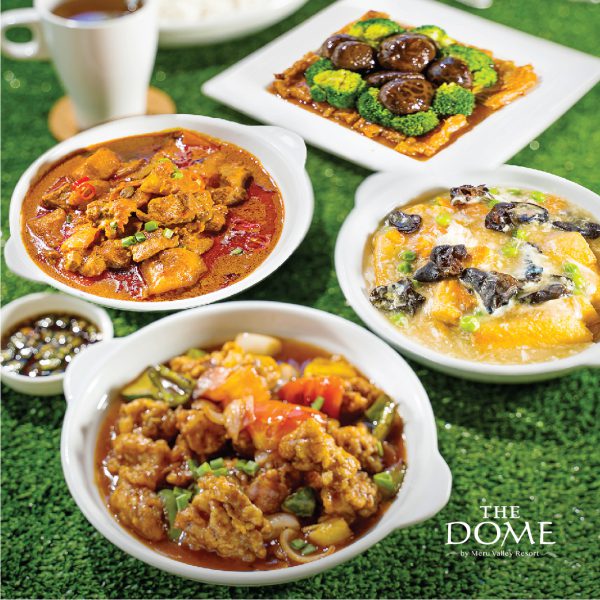 It's been great seeing you at The Dome and a pleasure serving you and your family once again. Variety is the spice of life and that is what our chef has set out to do with The Dome's November specials. From a popular Thai dish to everyone's favourite curry noodles, our chef's selection of tempting delights for this month, in addition to our extensive ala carte menu, will surely fire up your tastebuds.
Pad Kra Pao
An authentic Thai dish of wok fried chicken chunks in a hot, peppery gravy infused with aromatic holy basil, coupled with fragrant steamed rice and fried egg.
Served with a refreshing honey green tea.
RM16.50(M)              RM18.50 (G)
Fish Maw Curry Noodles,
A choice of yellow noodles or vermicelli immersed in steaming hot creamy curry broth topped with braised fish maw, chili cockles, long beans, prawns, fish cake and crispy fried beancurd. Served with a refreshing honey green tea.
RM 17.50 (M)    RM 19.50 (G)
The Meru Meat-free Family Set is a feast of four sumptuous dishes enough to satisfy up to four people. The Braised Vegetarian Goose with Broccoli and Mushrooms is a Chinese-style banquet dish of beancurd skin, complemented by a garden of broccoli florets and mushrooms, braised in a light flavourful gravy, while Chef's Special Vegetarian Lamb Curry of mock lamb curry infused with different herbs and spices will make you heap on the rice. Then, there is the Crispy Sweet and Sour Vegetarian Chicken of flour coated vegetarian chicken pieces deep fried till crunchy and wok tossed in a vibrant sweet and sour sauce, and Braised Japanese Beancurd in Egg Gravy where you have Japanese egg tofu lightly fried till golden brown before stir-fried in a silky egg drop gravy. All of these, accompanied by healthy Organic Multigrain Rice.
RM 68.00 (M)    RM 78.00 (G)
*All prices are exclusive of 6% service tax
If you're not ready to dine in, you can always savour these new flavours at home. To place you order, call 05 529 3358 or WhatsApp https://wa.me/c/60178786482.
Specials' Menu is available from now until 30 November  Monday – Sunday, 11am to 9pm, with last orders at 8.30pm.