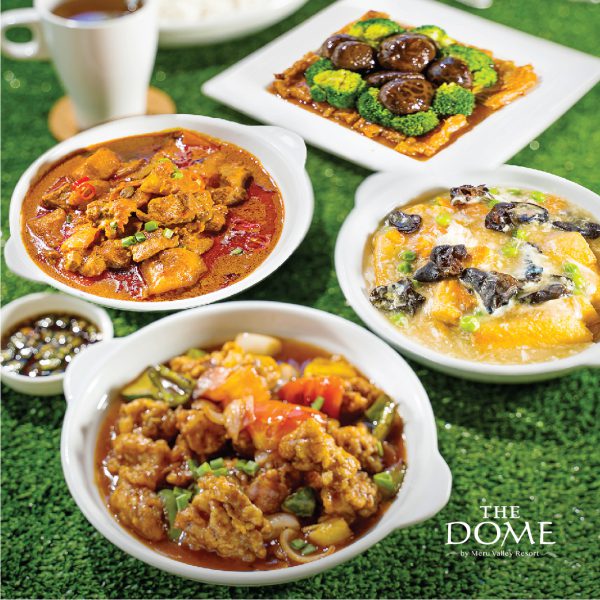 The Dome is piling on the plant power as we celebrate a cleaner, healthier lifestyle this month. Our chef has rolled out a special meat-free set meal in conjunction with World Vegetarian Day (Saturday 1 October). This month-long set menu complements the two popular meat-free dishes on The Dome's a la carte menu.
Meru Meat-Free Family Set is a feast of four sumptuous dishes enough to satisfy up to four people. It includes:
Braised Vegetarian Goose with Broccoli and Mushrooms –  a Chinese-style banquet dish of beancurd skin, complemented by a garden of broccoli florets and mushrooms, braised in a light flavourful gravy
Chef's Special Vegetarian Lamb Curry – mock lamb curry infused with different herbs and spices that will make you heap on the organic rice.
Crispy Sweet and Sour Vegetarian Chicken –  flour coated vegetarian chicken pieces deep fried till crunchy and wok tossed in a vibrant sweet and sour sauce
Braised Japanese Beancurd in Egg Gravy  – Japanese egg tofu lightly fried till golden brown before stir-fried in a silky egg drop gravy.
Accompanied by healthy Organic Multigrain Rice.
RM 68.00 (M)    RM 78.00 (G)
Shroomy Pomodoro Spaghetti
Our all-time Italian favourite, spaghetti pasta tossed in a homemade tomato sauce, with herbs and wild mushrooms
RM 25.00 [M] RM 28.50 [G]
Baked Sunny Veggie
For cheese lovers, this indulgent creamy cauliflower dish will bring you instant comfort. Take your fork to a steaming dish of mozzarella gratin, roasted cauliflower, pumpkin and mushrooms drenched in a black truffle cream sauce and topped with shichimi parmesan crisps.
RM 22.00 [M] RM 26.50 [G]
The specials menu is available all month. If you'd like to see more meat-free dishes on the menu, drop us an email at info@menuvalley.com.my
If you're not ready to dine in, you can always savour these new flavours at home. To place you order, call 05 529 3358 or WhatsApp https://wa.me/c/60178786482.
The Dome is open from Monday – Sunday, 11am to 9pm, with last orders at 8.30pm.