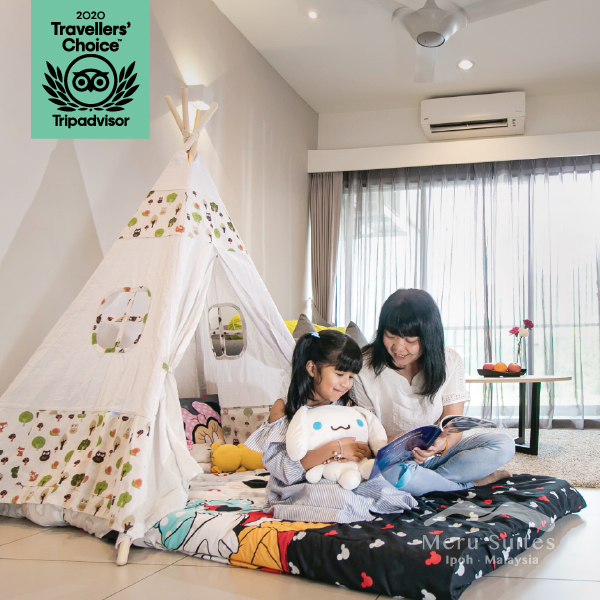 Meru Suites is Trip Advisor's as 2020 Travellers' Choice winner. Our serviced apartments have been recognised for consistently receiving great guest reviews placing us in the top 10% of hospitality business around the globe.
We extremely proud of the achievement and invite you to #beourguest and create meaningful moments together.
Hidden away in a prime location, enjoy staying in an apartment surrounded by spectacular 27-hole golf course and the magical Kledang Saiong mountain range.
The appeal of on-site serviced apartments is in its homely comforts, from a kitchen, dining area and lounge with Astro TV, with all the frills of a resort. Take advantage of the international restaurant, café with grocer for your quick grab and go, tennis courts, swimming pool, sauna, bicycles and gym for your fitness and leisure, spa and hairdresser for your relaxation, on-site doctor and Physical Therapy centre for your all around care; children playa areas and of course the championship golf course.
Relish in a one-bedroom suite with breakfast, complimentary mini bar (soft drinks) and afternoon tea for only RM 320 per night, from now till 30 November 2020. Enjoy an extra 10% savings when you book from now until 31 October 2020.
If you have a child below 6 years old, complimentary in-room children tent is a sure way to get the family adventure started.
General Manager of Meru Valley Resort, Ms. Florence Foo: "Being recognised as a travellers' choice has a special meaning for us this year. Despite the tourism industry being heavily impacted by Covid-19, out commitment to serving our guests with genuine hospitality has never once been shaken. Not only does this award assure our guests that we are still a trusted place to stay, it also proves that nothing is impossible with a passion and care for our community. Thank you to everyone that has stayed with us."
She added, "Thank you to all of our staff for caring and keeping everyone safe and well during these extremely challenging times by the implementing stringent safety measures around the resort. We wouldn't have achieved this without the trust of our guests and the full support from our people."
You can book your staycation here:meruvalley.com.my/stay/ or call 05 525 3628 or email to merusuites@meruvalley.com.my for more information.