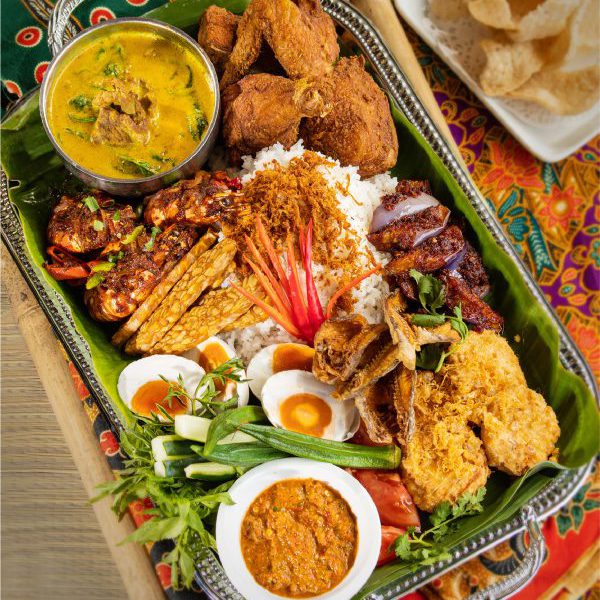 This months' specials menu is tapping into the rhythms of our eating life, with dishes that are relaxed, wholly satisfying and tasting even better as a shared experience.
The Dome's extra-special Nasi Ambeng Family Feast is going to nourish you fully – this set includes eleven dishes and involves maximum flavour.  For a dish that will soothe and uplift you, order the Daging Masak Lemak Telur Itik Pucuk Raja. If you want your meal to be fused with joy and comfort order the Claypot Lou Shu Fun – there is something so instantly cosy about eating food cooked and served in a claypot.
This month's specials are so good that we have extended the menu across April and May so you may order on repeat!
Claypot Lou Shu Fun
RM 15.00 (M)    RM 18.00 (G)
Lou shu fun noodles in a local thick gravy with prawns, egg, sliced chicken, topped with crispy salted fish, cooked and served in a claypot.
+ Ice Lemon Tea. 
Daging Masak Lemak Telur Itik Pucuk Raja
RM 20.00 (M)    RM 24.00 (G)
Marinated beef, simmered in rich coconut gravy with aromatic spices, served with poached duck egg and fragrant steamed rice.
+ Ice Lemon Tea
Nasi Ambeng Family Feast
(ideal for 4 people)
RM 108.00 (M)     RM 128.00 (G)
Savour the flavours with this traditional sharing platter that symbolises the rich cultural union of Malaysian cuisine, with its Javanese roots.
–        Buah Kurma
–        Ulam-ulaman with Sambal Belacan
–        Potato Bergedil
–        Deep fried Salted Fish
–        Salted Egg
–        Meru Fried Chicken
–        Daging Salai Masak Lemak
–        Tempe Goreng
–        Sambal Tumis Terung
–        Sambal Prawns
–        Fish Floss on Rice


Served with a centre mound of fragrant steamed rice surrounded by flavourful meat dishes such as tender daging salai masak lemak and Meru's fried chicken together with a selection of vegetable dishes. This special spread of eleven dishes is served on a large banana leaf platter and is the perfect meal to bring family and friends around the table and share the love this season.
You can dine in safely at The Dome as we strictly adhere to SOPs so that you can dine with peace of mind.
Both the specials and ala carte menu are available for dine-in and take away from The Dome from 11:00am-10:00pm, last order at 9:30pm. If you live in the resort, enjoy the free in-resort delivery service from 11:30am-8:00pm. To place your order call 05 529 3358 or WhatsApp to: https://wa.me/c/60178786482