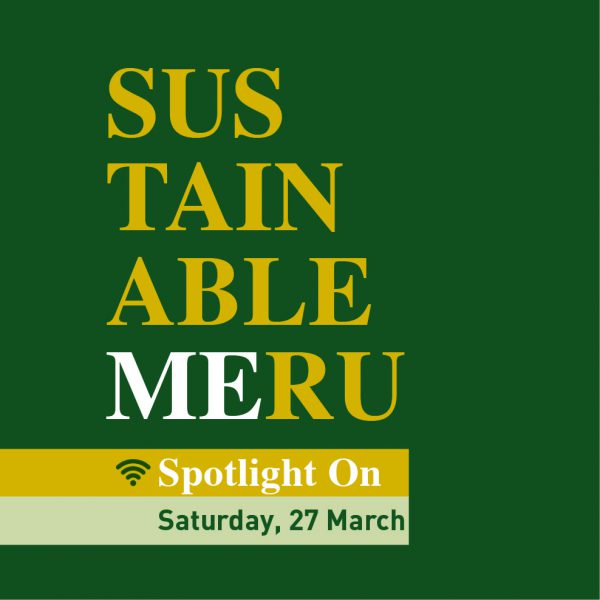 Meru Valley Joins the World to Celebrate Earth Hour
Meru Valley Resort will host a mix of virtual and in-person celebrations for Earth Hour 2021 on Saturday, 27 March.
The festivities feature an array of opportunities for our community to get together safely and virtually throughout the day. Members, residents and their guests can participate in:
Virtual 5km Run / Walk
Create your own 5km route and choose to run or walk it. Register for your race T-shirt. [Open to everyone in Malaysia, although t-shirt stick is limited so register early].
Zoom Zumba Party
Join Eric for a free special 30 minute Zumba party via Zoom or on Facebook Live and get fit for the planet.
[Open to everyone in Malaysia]
Bottle Swap

Free 350ml glass bottle when you bring in five plastic bottles to help minimise waste.
Book Swap  

Swap your books at our mini library in the car park porch or take a book with a small donation to WWF
Save Energy, No Buggy
Walk the course, no buggy on all three nines after 4pm
Sustainable Discounts
Enjoy 30% off selected items in the golf boutique. Plus, when you bring your reusable cup to The Terrace you. Can save RM1 on your beverage
Candlelit Dinner with Piano
Join pianist Samuel as he takes you on a romantic journey featuring classic piano favourites, played by candlelight
Switch Off at 8.30pm
Non-essential lights in the resort will be switched off for one hour from 8:30pm to 9:30pm. Join us in the dark; switch off your lights.
Meru Valley Resort Director Edwin Tan, explained that the resort is taking a different approach to this year's celebrations to provide a safer experience for the community, he said: "Staying connected as a community and looking for positive ways we can contribute to nature is more important than ever.
"Earth Hour has always been about the power of people helping nature, and while we may not be able to get together in large groups, we can still symbolically stand together across the world, from our own homes.
"Although we don't like to stand still in this neighbourhood so we've mixed things up by getting people outside to run or walk, dancing at home with Zumba or a more relaxed candlelit dinner at The Dome."
By participating in Earth Hour 2021, you'll be showing your support for nature and our planet. Encourage your friends and family to participate in our virtual events. You can hashtag #MeruEarthHour and share your photos for a chance to win surprise goodies.
Every last Saturday of March, Earth Hour spotlights the importance of nature by going dark.
To register for an event, get a t-shirt or for more information go to our special event page: events.mvrb.my